Listen
Grueninger Music Tours (GMT) is one of the nation's oldest, largest and most experienced travel companies focusing on travel for elite high school marching bands.  These 63 years of experience have solidified GMT as a company of excellence. A trip that is well crafted, educational, purposeful, and perhaps most of all, extraordinarily memorable just doesn't happen by itself. There are so many details to take care of and so many problems that could easily arise. As your travel partner, GMT anticipates and handles EVERYTHING so you are free to concentrate on your rehearsals and performance.
Experience
Our first trip hosting a band to the Macy's Thanksgiving Day Parade was in 1973.  Our first trip hosting a band to perform in the Pasadena Rose Parade band was in 1963.   Since that time, we've been back with student performance groups more than we could count. Each year GMT takes hundreds of students to perform all over the globe. From Ireland on St. Patrick's Day to Spring Break trips in Orlando, we've been around the block a few times. Since 2000 alone, GMT has managed band travel for over 60 bands to Pasadena, California for the Tournament of Roses.   It is not uncommon for GMT to move over 1,500 guests in a week to California.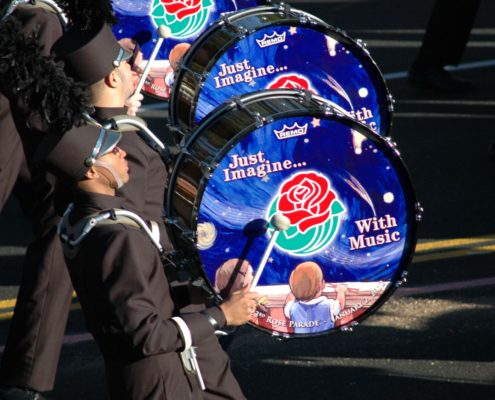 Partner
We know many other companies will want to "book" your travel, but at GMT, making your travel arrangements is merely the starting point for the relationship we will establish with you. Our TOTAL COMMITMENT philosophy is the essence of who we are and how we define and measure ourselves.
Flexible
Our longstanding client relationships and the referrals and recommendations we consistently receive from loyal customers all over the United States serve as a testament as to how we actually meet these lofty standards.  If you are looking for a partner to relieve you of the burden of planning your travel and you recognize there is simply no substitute for impeccable planning, responsive service, and proven expertise, then we are your travel partner.  Contact us today to make your next performance a reality!
"I am a 26 year veteran band director. I have travelled nearly everywhere a person would attempt to carry a high school band. This was the first time I had ever used GMT. I think it is safe to say that we are hooked on GMT and will seek their services when we make any department-wide trip again.
"I am so thankful to you and the entire staff of Grueninger Music Tours. You have an incredible staff and you covered every detail of our trip. We have taken several trips with many different travel agencies. Grueninger Music Tours are by far the most outstanding travel group to handle our travel arrangements."